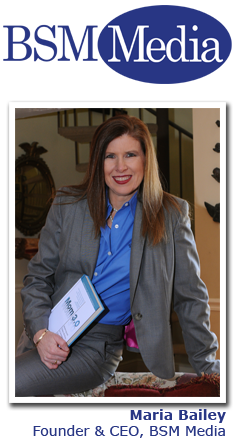 When you start with the leader, you'll be at the head of the pack.
Mommy Parties is a division of BSM Media, the global leader in Mom Engagement. The team at BSM Media has a passion for marketing to moms. While others proclaim they know moms, BSM Media had dedicated their entire discipline to connecting clients with the Mom Market. In fact BSM Media's founder Maria Bailey wrote the first book on the subject. It's what we know and what we do best. In fact, we are proud to say that it's all we do. We enjoy sharing our expertise with clients.
BSM Media is a internationally recognized full-service marketing and media firm that specializes in marketing to moms. Our unique combination of market knowledge and results oriented approach allows us to help companies reach their goals and beyond. We don't rely on yesterday's buying trends but on total 24/7 immersion in the marketplace.
In addition to offering clients marketing services, BSM Media owns and operates several media properties including: BlueSuitMom.com, MomTalkRadio.com, MomSelect.com, MomTV.com, SheStreamsTV.com, MomsNiteOut.com, MommyParties.com and SmartMomSolutions.com. These media outlets give us access to the pulse of the mom market, every minute of every day. We translate this information into marketing programs, strategies and initiatives that produce results for our clients, allowing them to maximize their marketing dollars by leveraging relationships BSM Media already has in the marketplace.
About Maria Bailey
BSM Media founder and CEO, Maria Bailey is an award-winning author, radio talk show host, nationally known speaker and the foremost marketing authority on marketing to moms. Her book, Marketing to Moms: Getting Your Piece of the Trillion Dollar Market, was the first to examine the buying power of mothers and the most effective marketing initiatives to tap the $1.7 trillion market. Her newest book, Power Moms: The New Rules for Engaging Mom Influencers Who Drive Brand Choice, offers a guide to engaging the Power Moms—influential mothers who help spread the word about products and services—to drive sales to your bottom line by creating a buzz online and offline. Power Moms also includes an unparalleled Directory of Influential Power Moms. She is also the author of Mom 3.0: Marketing With Today's Mothers by Leveraging New Media & Technology, Trillion Dollar Moms: Marketing to a New Generation of Mothers and The Women's Home-Based Business Book of Answers.
Maria is also the co-host of Mom Talk™ Radio, the first nationally syndicated radio show for moms, Founder/CEO of BlueSuitMom.com, the award winning Website for executive working mothers and the creator of Smart Mom Solutions, a product line that offers solutions to everyday challenges for busy moms.
She serves as a resource on work/life/family balance, working mother, marketing and women business stories for national media such as the British Broadcasting Corporation, CNBC, World News Tonight, Hearst Publications, "The Home Show", WPLG ABC 10, The NetFinancial News Network, The Wall Street Journal, USA Today, Self, Smart, O Magazine, Oprah's Fitness Magazine, Money, Parent, HomeChannel News and Entrepreneur. She and her company have been featured in the Women's Day, Money, Chicago Tribune, the New York Times, Wall Street Journal, Miami Herald, Philadelphia Inquirer, Denver Post, theSalt Lake City Tribune, NBC 6-Miami, CBS4-South Florida, WCBS-12 New York, WABC New York and the Tampa Tribune, as well as on hundreds of local radio and television shows. Inc. Magazine named Maria one of America's Best Work and Life Balance resources in February 2004.
She has served as President of several non-profit organizations and founded The South Florida Parenting Conference. She was a 2001 finalist for Working Woman Magazine's Entrepreneur of the Year Award, the first recipient of Women in Communication's Women of the Year-Technology Award and South Florida Up and Comer. Her company, BlueSuitMom.com was named Women Owned Business of the Year-2001 by The South Florida Business Journal. Most recently Ms. Bailey was named "Mother of the Year-2003 by the Broward County Medical Association and Healthy Mother-Healthy Babies Organization. The mother of four young children, Ms. Bailey lives in Pompano, Florida with her husband. She is a marathon runner and enjoys travel.
To tap in to the power of MommyParties™, contact Valika@bsmmedia.com or Maria at Maria@bsmmedia.com.